The Do it Yourself Bylaw Guide
C.D. Wilson Law Corporation
630 Terminal Ave. N. ,Nanaimo, BC V9S 4K2
Tel: 250-741-1400 Fax: 250-741-1441
info@wmlg.ca
McCormack & Company Law Corporation
350-500 Sixth Avenue, New Westminster, BC V3L 1V3
Tel: 604-545-0095 Fax: 604-545-0099
info@wmlg.ca
The "Strata Property Act, A Practical Guide to Bylaws", published by Strata-Sphere Condominium Services Inc., was originally released in August 2002 and is now in its 10th edition. Co-authored by Cora D. Wilson and Anthony Gioventu, CEO of the Condominium Home Owners' Association of British Columbia, the 10th edition was released June 2020.
Bylaw drafting is an art.
The Standard Bylaws attached to the Strata Property Act automatically apply to every strata corporation in British Columbia unless they are repealed, altered or amended by appropriate bylaws filed in the Land Title Office.
If the Standard Bylaws are not suitable for your strata corporation, or if there is a concern about a conflict between your filed bylaws and the Standard Bylaws, then you may wish to review your bylaws to address these concerns. It is also important that every strata corporation make reasonable efforts to ensure that its filed bylaws keep pace with legislative changes and that they reflect current case law.
Every strata corporation should seek legal advice from a lawyer with experience in strata law to ensure that bylaws are drafted in a manner that is legally enforceable. This may avoid expensive legal proceedings to resolve unnecessary disputes over poorly drafted bylaws.
The "Strata Property Act, A Practical Guide to Bylaws" is a comprehensive guide specifically designed for council members to assist them in reviewing bylaws.
What Does The Bylaw Guide provide? The Bylaw Guide provides a Do-It-Yourself format for the preparation of your bylaws.
A step-by-step process is outlined in The Bylaw Guide. This ensures that the strata corporation, usually comprised of volunteers, directs its mind to the major issues while taking steps to avoid the pitfalls. The Bylaw Guide includes direction for every stage of the bylaw making process, including: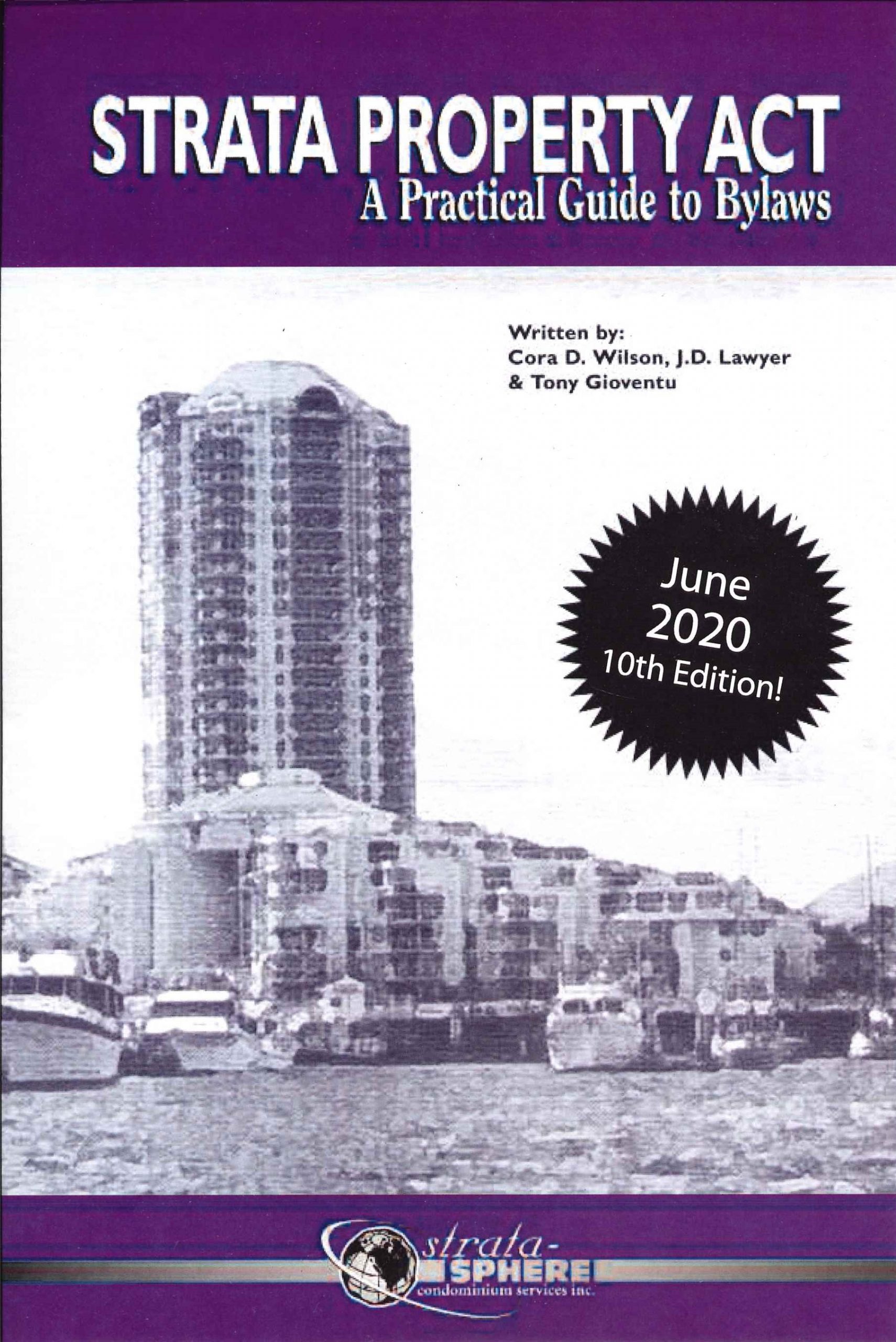 How to deal with unit owners;
How to undertake the bylaw review process;
How to amend bylaws;
How to repeal bylaws;
How to draft bylaws;
How to deal with presentation of bylaws at a general meeting; and,
How to file bylaws.
The Bylaw Guide is user-friendly and structured to direct non-lawyers on how to properly address bylaws. The instructions are written in ordinary language.
The bylaw review, drafting, approval and filing process is complex, difficult and time-consuming. It should not be taken lightly. Not all strata corporations have the funds or the budget to engage legal counsel for the purposes of completing this process. The result in some cases is that bylaws are less than adequate.
The Bylaw Guide is not being provided as legal advice, but we hope that by using it, your strata corporation can minimize disputes and legal costs.
To order a copy of the Bylaw Guide, please call us at 250-753-0353, Monday to Thursday, 8:00 am to 5:00 pm and Friday, 8:00 am to 4:00 pm.   Or contact us by email at  info@stratasphere.online, please include your name, address and phone number and we will contact you regarding which payment method you wish to use.  Please do not email credit card information.
Phone: (250) 753-0353
Fax: (250) 741-1441
E-Mail: info@stratasphere.online
Strata-sphere Condominium Services Inc.
630 Terminal Avenue North
Nanaimo, B.C.
V9S 4K2